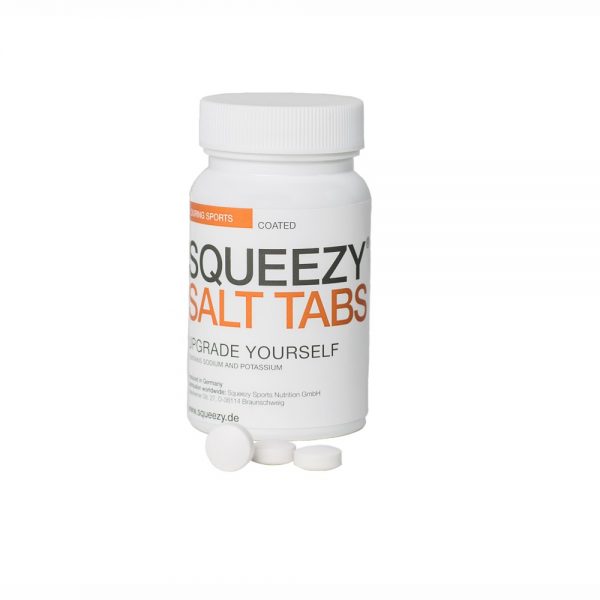 SALT TABS for Athletes
In addition to the effective energy supply of carbohydrates through our Energy Gel, the SQUEEZY SALT TABS with salt and minerals are the ideal supplement for ingestion during heavy physical exertion with high sweat loss.
Advantages of SQUEEZY SALT TABS
The coated dragees are very easy to swallow thanks to their small size and pleasant surface.
Approximately half of the amount of salt / minerals required per hour is supplied per dragee (500 mg salt = 200 mg sodium and 60 mg potassium)
No dispensable ingredients.
Taste-neutral and vegetarian dragee coating.
Ingredients of SQUEEZY SALT TABS
Sodium chloride, filler: calcium phosphate, potassium chloride, pressing aids: cellulose, coating: (hydroxypropylmethylcellulose, dye: titanium dioxide), release agent: travel extract.
Nutritional information about SQUEEZY SALT TABS
SQUEEZY SALT TABS -coated-
per 100 g
per dragee (0,82 g)
Calorific value
15,6 kJ
(3,7 kcal)
0,13 kJ
(0,03 kcal)
Fat
– hereof: saturated fatty acids
0,20 g
0,04 g
0,0 g
0,0 g
Carbohydrates
– hereof: sugar
0,44 g
0,02 g
0,0 g
0,0 g
Protein
0,06 g
0,0 g
Salt
62 g
0,50 g
Minerals
Sodium
24 g
200 mg
Salt
7,3 g
60 mg
Suggested consumption of SQUEEZY SALT TABS
We recommend taking 1 – 2 dragees per hour during exercise with sufficient fluid. A maximum of 10 coated tablets per day. The recommended daily dose should not be exceeded. Dietary supplements are no substitute for a varied, balanced diet and a healthy lifestyle. The product should be stored out of the reach of small children.