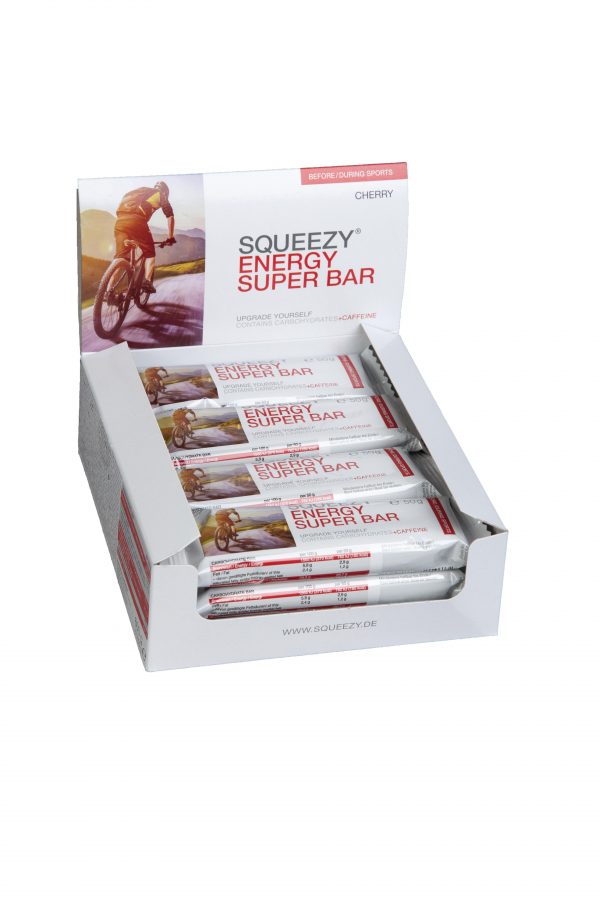 SQURI1019 ENERGY SUPER BAR CHERRY – AVAILABLE IN SELECTED BIKE SHOPS
As a vegan carbohydrate bar, our Energy Super Bar provides valuable and particularly delicious energy based on melt-in-the-mouth rice crispies, oatmeal and glucose syrup. Together with dried sour cherries and raisins, you can look forward to a real taste experience. 50mg of caffeine from guarana seed extract provides that extra kick when you need it to stay motivated and focused.

Developed for endurance sports, this special energy bar offers a carefully balanced carbohydrate mix with multi-stage energy release and is an ideal and, above all, tasty solution for energy supply in addition to gels, liquids and drinks.
Ideal for: Endurance sports in training and competition. Especially during long sessions and moderate loads.
Taste: Fruity tart bar with low sweetness
Note: Without artificial sweeteners and colors, suitable for vegans and vegetarians.
12 X 50g Bars